Paul Bienkowski, the editor of the website Manchester United Football Club Latest, apologised for his comments and said they "were not intended as racist".
This is David Adediran, a 24-year-old postgraduate who has been a huge fan of Manchester United Football Club since he was young. In his spare time he loves to play football, both on the pitch and virtually.
He is also an aspiring writer, which is why, on Wednesday evening, Adediran contacted Manchester United Football Club Latest, a news website, to enquire about its advertised staff writer job vacancies.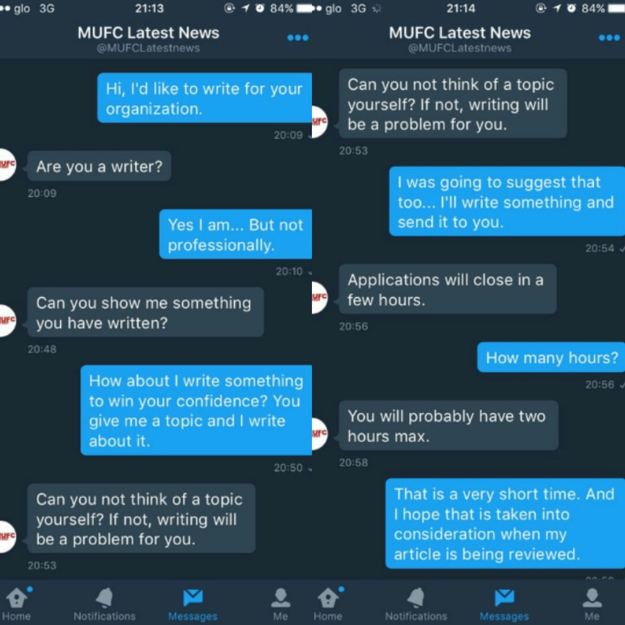 MUFC Latest describes itself as "one of the best supporter-run Manchester United websites", covering important day-to-day football news, including transfer rumours, and running opinion pieces.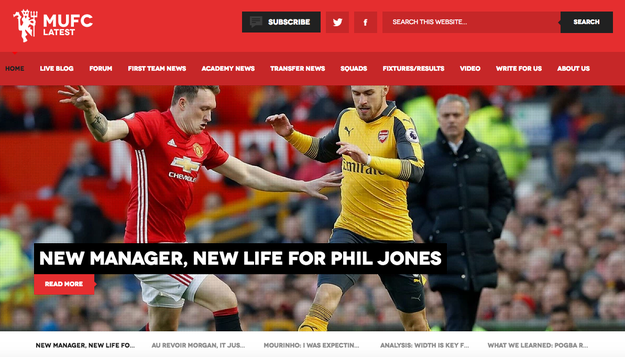 The site has been around for five years and is run by a team of 30. It has around half a million hits each month and a large social media following, with more than 100,000 followers on Twitter and more than 300,000 on Facebook.
After a short exchange about the application process, Paul Bienkowski, the website's editor, called him a "typical Nigerian". "Making excuses, proving nothing," he said.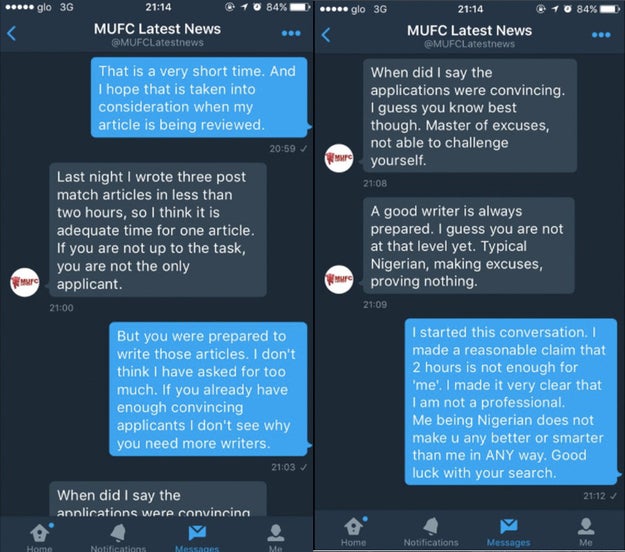 Bienkowski then went on to call Nigerians "a waste of space", and accused him of being a fraudster. "You Nigerians are a waste of oxygen and flesh. Scum country. Bye, moron," he said. "I don't commit fraud on a daily basis like Nigerians do"
David Adediran, who studied business intelligence and analytics at London's Westminster University, told BuzzFeed News he was shocked at the response. "I had not said anything to warrant such a response. I did not even mention my location, so he checked my profile and made that conclusion. I just thought it was unnecessary."
Around half an hour after we request for a comment from the MUFC Latest team, Adediran told us he had suddenly received an apology from the website's editor.
Adediran said he accepted the apology.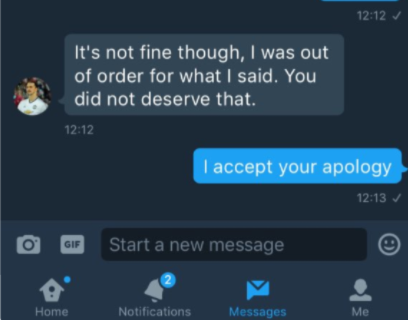 In a statement to BuzzFeed News Bienkowski said he offered his full apology for the comments he made.
"I fully accept that what I said was immature and uncalled for," he said. "Mr Ade did not need to accept my apology. My comments were not intended as racist and neither constituted racism in any way."
Many people on social media have claimed that this was not a one-off incident, and that Bienkowski has used the MUFC Latest Twitter account to direct abuse towards people from Nigeria.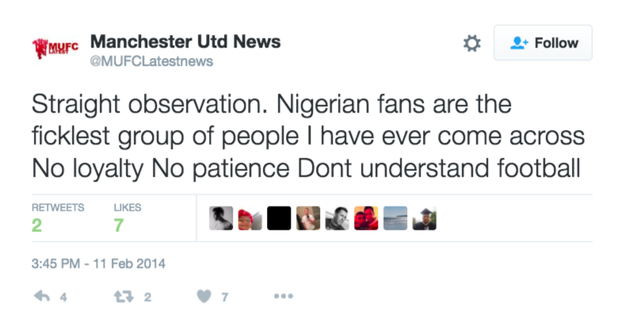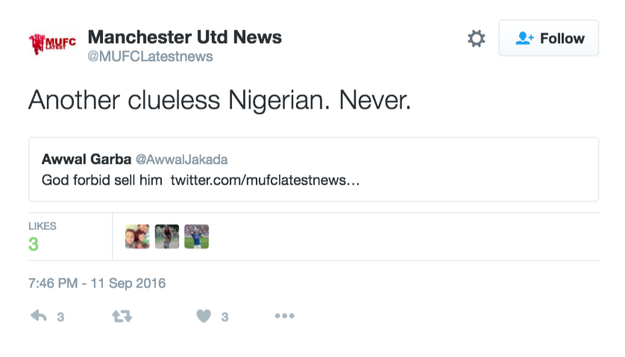 However, Bienkowski told BuzzFeed News that he denies these accusations. "I have never used racism to abuse the people of Nigeria, all said and done, those alleging are only suggesting what they consider as racism, not what actually is considered as racism," he said.
"To add some context to the matter, as the editor of a website, we attract many prospective writers. Many from Nigeria have adopted plagiarism, providing text they have not written themselves, which is not the sort of activity I wanted to get involved in. I have challenged many who have done this, but never racially.
"I fully accept I am wrong in what I did and feel the matter has been brought to a close."
Adediran told BuzzFeed News he will not let the bad experience stop him from pursuing things he loves.
"This doesn't devalue me or what I have to offer in anyway," he said. "I was just shocked."
You Need To Promote Your Music, Video, Products, or Any Promotional Biz, Feel Free To Contact CEO IJEBULOADED via "Whatsapp : 08132090729" || "Call : 08089139839" Or Mail us at Info@Ijebuloaded.com or Ijebuloadedng@gmail.com